Coal Wood Steam Boiler > Biomass steam boiler >
Biomass Steam Boiler
Steam Capacity :0.5t/h-4t/h
Pressure :0.7Mpa-1.25Mpa
Fuel :bagasse, rice husk, straw, wood, other biomass fuels, coal, etc.
Application : Sugar mill, rice mill, food & beverage factory, farm, etc.
Brief Intro :DZH bagasse & rice husk fired boiler has single drum,
the combustion equipment is moving grate. It has the advantages
of high thermal efficiency, avoid coking, low cost, environment protect, etc.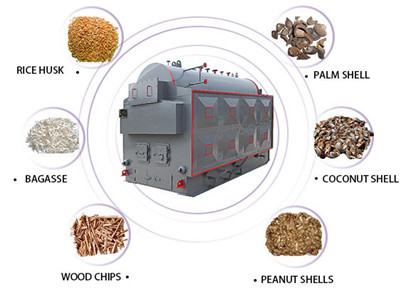 DZH biomass fired steam boiler is single drum boiler with both water tubes and fire tubes, the combustion equipment is moving grate, the fuel could be fed manually or mechanically. To avoid coking, increase the combustion space and adopts secondary air design. Biomass fuel is clean and renewable fuel. Compare with oil/gas fuel and coal fuel, it has the advantages of environmental protection, energy saving, and low cost. Except bagasse and rice husk, the boiler could also burn wood chips, sawdust, peanut shell, cotton hull, stick, and other biomass fuels.
This DZH bagasse & rice husk boiler uses the new scientific achievement, such as arch tube plate, and spirally corrugated tubes to solve the problem of low thermal efficiency, coking, tube plate cracking, drum bulging, insufficient output, and environmental pollution. Jinzhen Boiler has a mature R&D and design team, could customize the boilers based on customers' requirement.
Application:
Biomass steam boiler is widely used in medicine, chemical, light industry, textile, building material, cultivation, food and beverage, plastic foam, printing washing, rubber processing, paper making, wood processing, hotel and garment manufacturing and tanning , etc. Hot water boiler is widely used in hospital, school, hotel, swimming pool, laundry, farm, etc.
Performance Advantages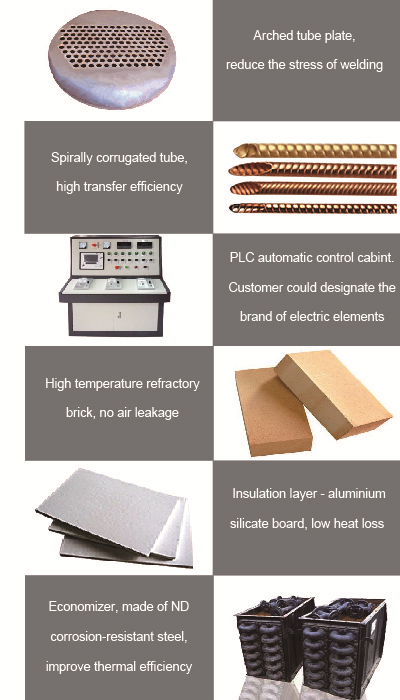 1. High thermal efficiency
1) The spirally corrugated tube strengthen the heat transfer, improve thermal efficiency. The flue gas has the foundation of disturbance, avoid ash depositing in tube.
2)The furnace wall was poured entirely by the heat-resistance concrete and high-temperature-resistance refractory brick, and the boiler shell uses aluminium silicate board for heat preservation, low heat loss.
3) Equipped with economizer, make full use of the heat of flue gas, decrease the exhaust smoke temperature, increase thermal efficiency.
2. Anti-coking
1) For the easy coking biomass fuels, increase the size of furnace, large space to achieve sufficient combustion.
2) Adopts unique double secondary air design, improves the ignition condition of biomass fuel, sufficient air supply to make sure the high combustion efficiency.
3. Avoid bulging
The riser tube bundle under the drum, remove the dead water region at the bottom of drum, sludge is not easy for depositing, the high temperature area of drum has better cooling, prevent bulging.
4. Avoid tube plate cracking
1) The boiler adopts arched tube plate and spirally corrugated tube, change the quasi-steel body into quasi-elastic body structure, reduce stress.
2) Arrange two sides gas duct in drum, the smoke gas could enter into the front smoke chamber smoothly, the temperature of tube plate is lower than 600℃, avoid cracking leaded by high temperature.
5. Sufficient output
Adopts horizontal type three pass structure and large furnace, to ensure the sufficient combustion, and the boiler could absorb the thermal expansion effectively. The large diameter boiler drum increases the radiant heating surface, to ensure the sufficient output.
6. Environmental protection
1) The biomass fuel do not content sulfur, do not pollute the environment, and the cost on biomass fuel is low.
2) The splayed wall and smoke outlet have the function of dust removal, decrease the concentration of smoke emission.
Technical Parameter
Model

Rated evaporation capacity (t/h)

Working pressure (Mpa)

Thermal Efficiency (%)

Fuel consumption (Kg/h)

Overall dimension L×W×H (mm)

Weight (t)

DZH0.5-0.7/1.0-T

0.5

0.7/1.0

78

150

3228×2000×2656

8

DZH1-0.7/1.0/1.25-T

1

0.7/1.0/1.25

80

301

4108×2200×2915

12

DZH2-1.0/1.25/1.6-T

2

1.0/1.25/1.6

80

602

4700×2300×3270

15

DZH4-1.25/1.6-T

4

1.25/1.6

80

1190

5600×2550×3563

22

Note: 1. Parameter is for reference only, if any changes should follow the factory technical data.
Contact Us

Tel:+86 158 3808 8573
Fax :+86 371 5596 3948
Mobile:+86 158 3808 8573
E-mail: [email protected]
Skype: 15838088573
Whatsapp: +86-15838088573